Miriam Fernández-Santiago is a lecturer at the Department of English and German Philology of the University of Granada, where she currently teaches literary theory, the literature of ethnic minorities in America, and the cultures of English-Speaking countries.  She graduated in English in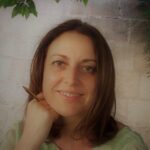 1997 at the U niversity of Huelva, where she started teaching in 1998 as she completed her M.A. on Thomas Pynchon.  In 1999, she was granted a fellowship by the University of Cornell to participate in the Summer Courses of the School of Criticism and Theory and worked as Visiting Instructor at Duke University in 1999 and 2000.  In 2001 she was granted a fellowship to carry out doctoral research at the Universities of Huelva and Seville and two years later, she completed her PhD on the role of humor in postmodernity from the perspective of critical theory. 
Since 2004, Dr. Fernandez-Santiago is member of Research Group "North American Studies" (HUM488) at the University of Seville, and a member of the Editorial Board of Revista de Estudios Norteamericanos of the Spanish Association of American Studies.  She taught several courses on writing and English and American Literatures  at the Universities of Seville, Pablo de Olavide and Sweet Briar College from 2004 to 2007, when she started teaching at the University of Granada.
Her research interests range from Cultural and Intercultural Studies, Critical Theory, and North American Literature, including titles such as The (I)logics of Postmodern Humor (2003), The Voice and the Void (2005), Map of Good Intercultural Practices (2009), among others.  Her most recent publications include book chapters like "Warped Discourses: The Logic of Absence in Democratic Discourse" (2011), "Estudio Comparativo del Uso del Doble Literario en las obras de Umberto Eco y E. A. Poe" (2011) and -"Lo Plausible.  Similitudes y diferencias entre la Malinche y Pocahontas" (forthcoming), or articles such as "Unreliable Homodiegesis and the Trace of Influence: the Work of E.A. Poe" (2010), "Revisiting Untraded Paths.  Literary Revisions of Eighteenth-Century Exploration Journals" Rupkatha Journal on Interdisciplinary Studies in Humanities (2011), "Poe's Play-Full Narratives.  His Use of Dramatic Devices in Short Fiction." (2011), "Edgar Allan Poe's Narrative Use of Literary Doubling" (2013), and "Divination and Comparison: The Dialogical Tension between Self-Reflective Aesthetics and Sensational Motifs in Edgar Allan Poe's Dupin Series" (2016).