María Ferrández  San Miguel is a a lecturer at the "Centro Universitario de la Defensa" (AGM-University of Zaragoza). She graduated in English Studies at the University of Zaragoza in June 2010, receiving the Extraordinary Degree Award "Gregorio García-Arista". In June 2011 she obtaine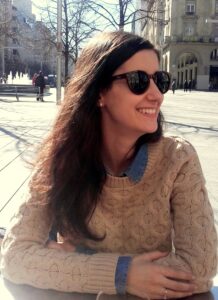 d the Master's Degree in Teacher Training for Compulsory Secondary Education. Then she completed the Master's Degree in Textual and Cultural Studies in English. In March 2013 she secured a position as research fellow at the Department of English and German Studies (University of Zaragoza), after being granted a national competitive research fellowship by the Spanish Ministry of Education, Culture and Sport. In April 2017, she received her PhD cum laude, after defending her thesis entitled "Mapping E.L. Doctorow's Ethical Pursuit: Trauma and Gender Articulations in Welcome to Hard Times, The Book of Daniel, Ragtime, and City of God" under the supervision of Professor Francisco Collado-Rodríguez. María has also been an Academic Visitor at the University of Northampton (2014) and Michigan State University (2016).
María's main research interests lie in contemporary and postmodern US fiction, feminist criticism, and ethics, with special attention to issues of trauma, memory and representation. Her most recent publications include "Appropriated Bodies: Trauma, Biopower and the Posthuman in Octavia Butler's 'Bloodchild' and James Tiptree, Jr.'s 'The Girl Who Was Plugged In'" (Atlantis, 2018), "Towards a Theoretical Approach to the Literature of Resilience: E. L. Doctorow's Ragtime as a Case Study" (Orbis Litterarum, 2018) and "'No Redress but Memory': Holocaust Representation and Memorialization in E.L. Doctorow's City of God." (Memory Frictions: Conflict, Negotiation, Politics, eds. María Jesús Martínez Alfaro and Silvia Pellicer Ortín, Palgrave MacMillan, 2017).